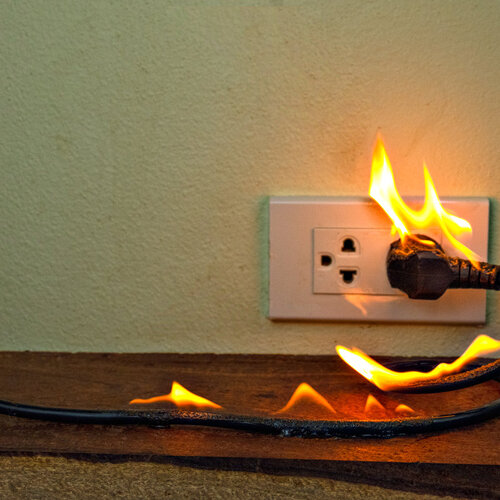 The Aftermath of a Fire
Even with water heater leaks, busted water pipes, and roof leaks, the worst thing of all for a homeowner to deal with is a house fire. Restoration and repairs of the other three things are obvious, but is a house fire restoration possible? 
How bad is fire damage?
A house fire does more than damage or destroy a home. It can reach fatal heat levels, and even if the home isn't 100% destroyed, it leaves bad odors and stains to be reckoned with during house fire restoration. This includes removing the smoke that traveled through the house, creating additional staining of flooring and walls. The smoke carries and leaves dirt, dust, and soot on every surface.
There are other possible dangers in addition to the fatal heat levels. If the fire doesn't destroy the home, leaving enough for house fire restoration possibility, there are ongoing issues to be considered. Like carbon dioxide and carbon monoxide creates dangerous levels of chemical and thermal irritants.
These irritants can cause permanent damage to the respiratory system of humans and pets, even resulting in death. The method of a house fire restoration is dependent on what type of fire occurred. So, can you live in a house with fire damage?
You could, but it isn't safe, no matter the size of the house fire, there are smoke particles spread throughout the house still lingering. By staying in the house, you'll be exposed to several health risks from the smoke and soot.
If you plan to stay in the house, you need to hire a professional house fire restoration company. Or find out how to restore a house after a fire so that the
smoke and soot lingering through the house won't be absorbed by your system, subjecting you to possible long-lasting health effects. 
The first step in a house fire restoration is to remove the soot. Before you clean the carpeting, curtains and drapery, and upholstered furniture or your clothing, the soot needs to be removed because of the staining factor. Soot is an oily substance that should be removed using a heavy-duty vacuum cleaner without any attachments. Once you have vacuumed these surfaced, cover them with plastic so more soot from the house isn't attracted to them.
Next, you need to get the odor eliminated cause by the smoke. A proper deodorizing must be performed to get the remaining smoke odor out of all the clothing, carpeting, drapery, and upholstered furniture. This can be done by using a dry cleaner that has a deodorizing process to break up the smoke molecules.
This ozone treatment will produce an oxidizing agent that gives a sweet smell like that from a rainstorm. A professional house fire restoration company will use an ozone generator or place items in an ozone room. If you're attempting your own house fire restoration, you'll need to deodorize all fabric covered items before having them cleaned.
Now, remove the smoke that is between the walls or the smoke odor will reoccur, especially in damp and humid weather. During the fire, the pores of the walls expanded, and the smoke filled those pores. As the house cooled down, it sealed that smoke odor inside the walls. The smoke odor is also inside the ducts and vent, drifting throughout the home. The air ducts will need to be replaced to remove all the smoke odor or have a house fire restoration company apply a chemical sealer that permanently seals the smoke odor to the sides of the ducts. 
Remove all the insulation from the attic. This is one area that no measure of house fire restoration can rid or seal. The insulation will need to be replaced.
Have the carpeting and drapery professionally cleaned. Once all the house fire restoration has been completed, they may need to be professionally cleaned again.
 With this step-by-step on how to do a house fire restoration, you may want to know what to clean fire damage with. The American Red Cross recommends using a mild detergent or soap for removing smoke and soot from the floors, furniture, and walls. 
Another option is mixing four to six tablespoons of tri-sodium phosphate with one cup of chlorine bleach to a gallon of warm water. With rubber gloves and durable cleaning rags, clean all waterproof surfaces thoroughly and then rinse with clear warm water.
Does insurance cover fire damage?
Typically, a homeowner insurance policy is property insurance that provides additional coverage for damages or loss to a structure that is damaged or destroyed by fire.  The policyholder will be paid under the policy for replacement cost or the ACV (actual cash value) for the damages. Every insurance company has differences and each homeowner's policy is different. Refer to your own policy and contact your agent if you're unclear what is covered for a house fire restoration. 
How hot is a house fire?
In under four minutes, a house fire heat can reach get over 1100 degrees Fahrenheit. A room that isn't in flames will reach over 300 degrees. Approximately 80% of all civilian deaths in a fire are in the home.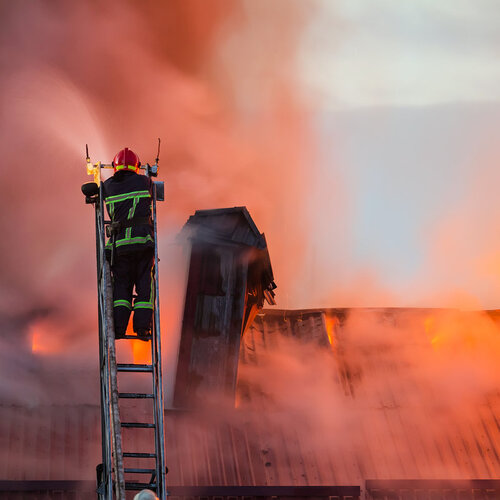 Can fire damage brick?
Brick is one material that doesn't burn. However, there are side effects from a fire that makes them unsafe, such as cracking and spalling. Part of a house fire restoration is to have the home thoroughly inspected to make sure none of the bricks are damaged.
In Conclusion As a landlord, in case of a house fire of a rental unit, are tenants responsible for fire damage? Both the landlord and tenant have a specific responsibility in case of a fire. The landlord is responsible for making sure all electrical, gas-powered or other possible flammable items on the property are in good working order. The tenant is responsible for taking steps that prevent a fire, like leaving a candle or cigarette unattended.